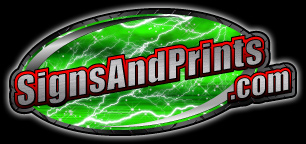 Follow us on Facebook, Twitter, and Instagram for our latest updates.
We accept Checks, Money Orders, Visa, Master, Discover, Amex and PayPal.
All images, written materials and designs in this web site are properties of Signs and Prints, unless otherwise noted.
Copy whole or parts of this web site without Signs and Prints' written consent is prohibited.
Copyright © 1997 - 2015 Signs and Prints. All rights reserved.